Singer & guitarist in The 13th Floor Elevators.
Author of 2 books of lyrics & poetry.
& notarized alien.
Although I have never met the man I do possess his signature. (Autograph.) It was given to me when I left Amoeba Music in Cali. by Eric.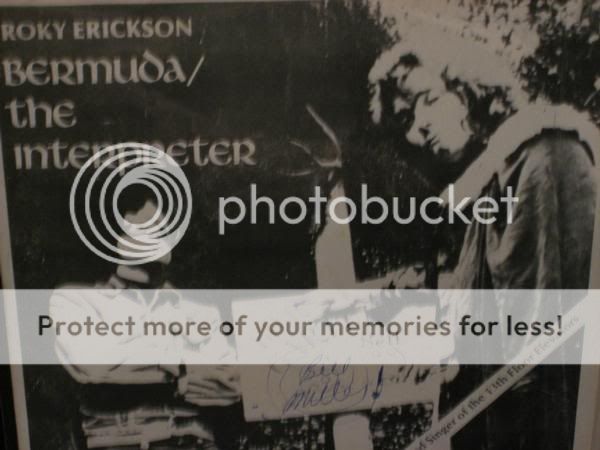 If you have read my previous entries on this page then you may already understand that I am a bit of a nutter for this man's music. From The Spades to Demon Angel I try to read, hear & watch all that I can about who he is & what he does. Although I am no expert (& will never claim to be so) I do know a bit......... so imagine my surprise when I learned that back in 2005 some of his recordings were re-mastered & re-issued. I can remember scouring the bins at My Generation to find a copy of Gremlins Have Pictures.
I remember getting the Mars single at Platterpuss Records. I got my copy of Clear Night For Love on trade at Rec. Ex.
Bought Casting The Runes at Used Kids down in Columbus.....
& the Sponge single in Cali.
(prompting Eric to dig deep & give me Bermuda/The Interpreter)...
(See above.)
Terry giving me copies of The Evil One & Reverend Of Karmic Youth.
Tim giving me a copy of Love To See You Bleed......(You get the idea.)
I thought I had most of if not all that was issued. Guess not. It looks like The Evil One,
Gremlins Have Pictures
& Don't Slander Me
are out on CD w/ bonus material. (& in the case w/ Gremlins..... new cover art as well.......... a shame really...........) The Evil one has a bonus disc to boot! The Modern Humans Show graces disc 2 for the first time. An interview w/ a coherent Roky interspersed w/ live, in the studio versions of songs. The other two, Gremlins Have Pictures & Don't Slander Me have a few bonus cuts but nothing that makes or breaks the listening experience. The re-mastering on all 3 sound superb. No "Loudness Re-mastering" here as all the brights are bright & the bass is not overpowering. There's parts to songs that I have never even noticed before that are clearly evident on these new discs. It's odd that all 3 sound top notch as they appear to be issued on 2 different labels. First Gremlins use to be on Pink Dust (Restless). Now it's on Sony. The Evil One was on 415 Records (through Sony) now it's on Sympathy For The Record Industry. Finally Don't Slander me was on Pink Dust (Restless) as well..... & it's the only one that stayed put. What? Why? Did Sony sell Evil One to Sympathy & spend the cash on Gremlins? Did Restless sell Gremlins & use the cash to re-issue Don't Slander Me? & where the hell does Sympathy For The Record Industry get the cash needed for The Evil One? (Just being personal as The Evil One is in tight first as my fave solo LP by Roky & Sympathy has a nasty reputation for being cheap.)
Well........... this time around instead of posting a few tracks I have made a mix cd. There's some singles here & some LP cuts. Plus a bit of an interview which opens & closes the disc nicely. It is 60 minutes
Roky Mix Tape.